Store
Due to extensive travelling of my day time job, I can only sell these jfets below. Shipping will be delayed and normally I can only ship once a week.
Toshiba K170BL – only 6.5mA to 9mA (HK$100 for 4 pcs)
Toshiba J74BL – 6.4 to 9.8mA (HK$110 each pc); 9.9 to 11.2mA (HKD$75 each pc)
Toshiba K170 / J74 pair HK$150 each pair (6.8 to 10mA).
Note all jfets can be matched to maximum 4 pcs in one group of same channel type. Example NNNN, PPPP, NNPP, and NNNNPPPP. All within 0.2mA Idss tolerance.
Thank you for all the support!
.
1.0 FDA-2A AD1955-WM8805 DAC kit (launched on Sept 14th)

(NOT Available)
Price : HK$1,550 (about US$200) inclusive all paypal fee and worldwide postage by registered airmail.
Details: http://www.fetaudio.com/archives/1666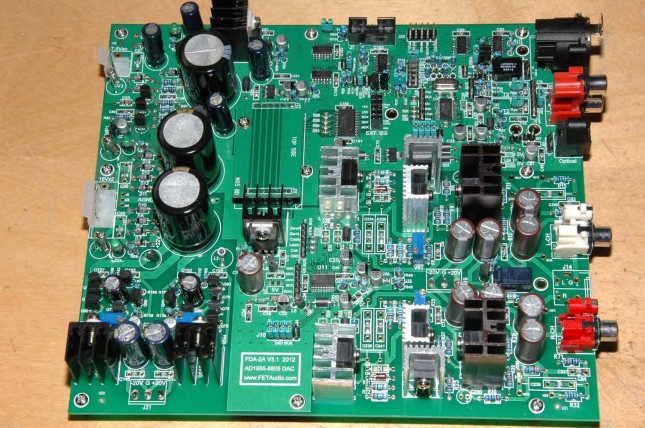 .
1.1. FDA-1B Full Balance PCM1794A DIY DAC KIT (

NOT available

)
NEW Price :

HK$3,100

; (about US$399)
inclusive all worldwide postage and paypal fee. Postage is by registered airmail to worldwide will take average 2 to 3 weeks.
SMD parts on main board will be pre-soldered. For front panel control board, only one SMD IC (SSOP type) will be pre-soldered. The DAC will work from RCA SPDIF input even the front panel control board is not plugged in.
.
After fully assembled the kit, it will look like below picture. Plug in the transformer (not included) and the DAC will work by itself.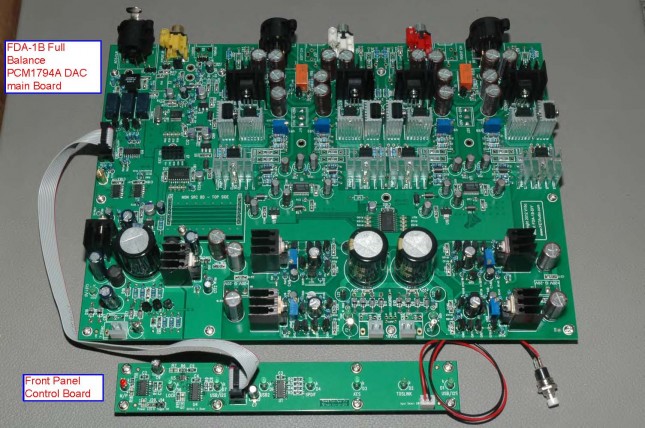 Refer to Manual for details:
http://www.fetaudio.com/wp-content/uploads/2012/04/FDA-1B-DAC-Manual_r1.pdf
To complete the DAC kit, you need to buy a case, transformer and related AC connector and switch at your own cost. Note that the transformer required for FDA-1 full balance version and FDA-1B are the same.
As before, any assembly problem or query will be supported by email within 48 hrs.
More details : http://www.fetaudio.com/archives/1502
.
ASRC daughter board can be found in below link. Only fully assembled and tested unit will be sold at HK$400; (about US$50). Please add this option to your order if you are interested.
http://www.fetaudio.com/archives/1545
.
2.0. Toshiba 2SJ74BL and 2SK170BL match pair for sales:

(NEW PRICES from 1st Nov, 2013)
(Available)
2sk170BL/J74BL match pair

HK$120/pair

(Pair = K170 x 1pc and J74 x 1 pc) (about US$16).

Idss 6.4 to 9mA only.

2SJ74BL : HK$160/pair (about US$22 – 2 pcs) or HK$320/quad (about US$44 – 4 pcs).

Idss 6.4 to 11mA.

2SK170BL match quad : HK$100 (about US$13 – 4 pcs).

Idss 6.4 to 9mA only.

Note that Idss of K170 at 10mA and above is basically not available. If found, the price is

HKD$100

each.

Unmatch will be same price as match above. Only BL grade of above jfets are available.
Shipping is HK$35 (US$4.5) to worldwide by registered airmail and paypal fee 5.5% (4.5% for purchase amount >= HK$500). All matched within 0.2mA Idss @ 10Vdc. Maximum match is 4 pcs K170 and 4 pcs J74 with same idss match together in one group. Note that the temperature at measurement is about 28 to 30 degC in Singapore.
.
3.0. SSOP28 to DIP28 converter board for sales:

US$1

(Available)
Details refer to here: http://www.fetaudio.com/archives/748
.
4.0. WM8804 to CS8412 Converter Board for D1V3, D1V33 and other DAC:

HK$250 (Available)
Details: http://www.fetaudio.com/archives/1602
.
5.0 Toshiba Mosfet 2SK1530-Y/2sJ201-Y pairs for sales: (

Not available)
N-P pair unmatch: HK$100 (about US$13). Limited stock.
NN-PP 2 pairs, match NN and PP only: HK$320 (old price HK240). Not available.
NNN-PPP 3 pairs, match NNN and PPP only: HK$480 (old price HK360). Not available.
NNNN-PPPP 4 pairs, match NNNN and PPPP only: HK$800 (old price HK480). Not available.
Note that there is no NP match for sales. Limited stock only.
http://www.fetaudio.com/archives/1683
MUR3020W for sales: HK$12 each, shipping and paypal fee extra. (Not available)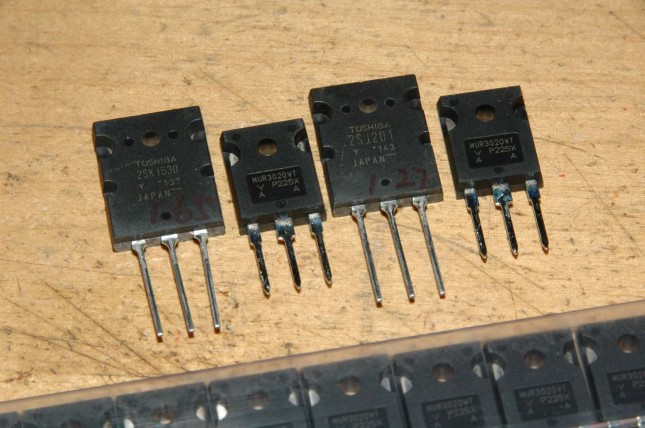 .
6.0 RX-V8 interface Board for FDA-1B and FDA-2A using Amanero USB Combo384
(from Nov 1st, 2012) Not available
1. PCB only: HK$100 (about US$13). (BOM and Circuit will be provided after order)
2. Fully Assembled board (please specify FDA-1B or FDA-2A use): HK$400 (about US$50).
Shipping cost will be HK$31 and paypal fee add 5% on top.
Note that the Amanero Combo384 is NOT included in this sales.
http://www.fetaudio.com/archives/1700
.
7.0 2SK1529/2SJ200 & 2SK1058/2SJ162 matched pairs for sales:
(Available)
(from Nov 13, 2012)
1. N-P pair HK$80 each.
2. NN-PP match set HK$200 each.
3. NNN-PPP match set HK$300 each.
4. Note there is no N to P match. The match above is only NN, NNN, PP, or PPP match. Tolerance 6mV or below at 10V/100mA. Note that the Toshiba and Hitachi parts are with different pin assignment. I think it is very good power mosfet for F5 or headphone amp output stage use. Limited stock for each group only. Shipping and paypal not included in above price.
.
8.0 F5T Turbo Kit for sales: (

See home page

)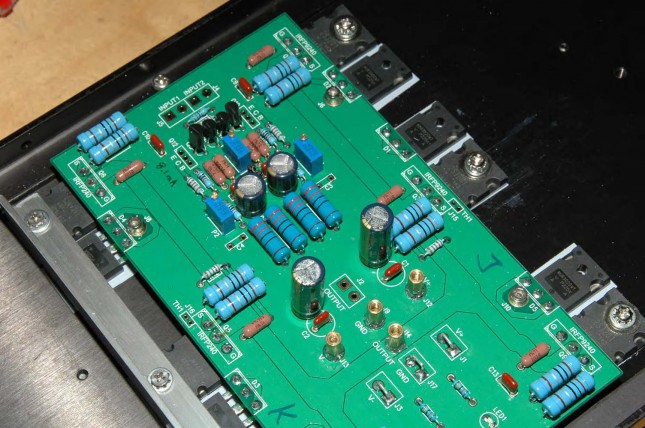 Price for full kits is HKD$1473 (two channels) and details refer to the doc below for other options:
Other details:
http://www.fetaudio.com/archives/1725
.
If you want to buy any thing here, please email to skcheung68@hotmail.com (primary), skcheung68@gmail.com, or spencer@fetaudio.com. In case you do not get my reply in 2 days, please use other address and try again.